Aiphone
Aiphone is one of the most respected and reliable brands of communication systems in the world.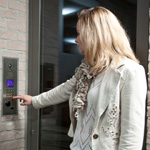 Aiphone products range from simple door answering units to sophisticated video entry security systems, complex microprocessor-based commercial intercom systems and luxury apartment security and communication systems.
Aiphone's products are unrivalled in design simplicity, technical excellence and reliability. MMP can create an Aiphone system solution for virtually any intercom application.
Every Aiphone system is the result of painstaking attention to detail, with contemporary style design and the finest quality hardware and circuitry. All Aiphone products are engineered and tested with reliability in mind.
Aiphone's new GT system can have up to 16 door stations and 2000 room stations with colour pan, tilt and zoom modes of operation making it extremely flexible for all types of application. Aiphone are also a forerunner in IP communications for video and audio door intercom systems.