CCTV Systems
Intelligently planned and expertly installed CCTV systems provide a high-visibility 24-hour crime prevention deterrent, the ultimate evidence-capture resource and, most importantly, peace of mind that your business or domestic premises is properly protected.
Today's high-tech equipment is far more robust, flexible and effective than predecessors that relied on blurred images caught on scratched tapes-and potential offenders know that!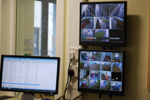 At MMP we use only the best and most reliable cutting-edge surveillance products that capture high-quality, digitally-stored video data you can monitor from anywhere in the world.
Our expert security system designers and technicians will be happy to carry out a free security audit of your premises before working with you to plan and then install and maintain a bespoke solution specifically for your premises.
MMP's professional advice, service delivery, support and maintenance applies to each project whether you're a domestic customer, a small self-employed business or a multi-site organisation wanting to integrate a range of security facilities covering numerous buildings.
To speak to one of our friendly advisers contact us today and we'll discuss how MMP can provide the very best 24-hour CCTV security solution for your business or home.